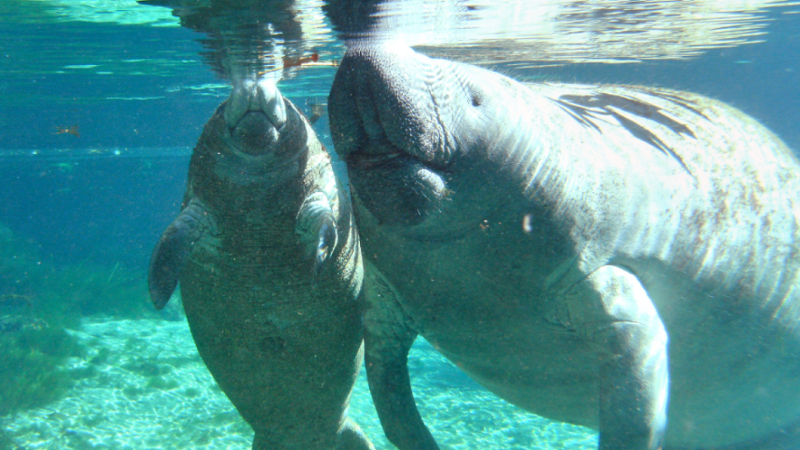 WASHINGTON – U.S. Reps. Vern Buchanan, and Darren Soto, D-Fla., announced today that they have introduced legislation to grant manatees the highest level of federal protection available.
The Manatee Protection Act, H.R. 4946, would officially upgrade the West Indian manatee from "threatened" to "endangered" under the Endangered Species Act (ESA). Upgrading their designation under the ESA will not only require the U.S. Fish and Wildlife Service (FWS) to refocus their attention on manatee population rehabilitation, but also allow for increased federal resources including more funding and personnel.
"Manatees are beloved, iconic mammals in Florida," said Buchanan. "This year's record-breaking number of manatee deaths is staggering and extremely concerning, which is why upgrading their ESA status is absolutely critical. We must do everything we can to protect these gentle giants and Florida's official marine mammal."
Congressman Darren Soto said, "2021 was the deadliest year for the West Indian manatee in our home state of Florida. These mass deaths should alarm us all and incite us to take immediate action to protect these precious mammals. By adding the West Indian manatee to the ESA's endangered list, we are ensuring that necessary steps are taken to prevent any more unnecessary deaths."
According to Florida's Fish and Wildlife Conservation Commission (FWC), 890 manatees have died in just the first seven months of this year. That number has already surpassed the previous record of 830 deaths in all of 2013. The most recent FWS data estimates that there are only around 6,500 West Indian manatees in the southeastern United States.
Most experts attribute the soaring manatee death count to a significant loss of seagrass along the Atlantic coast, which is causing many manatees to starve to death, as well as a worsening bout of red tide in the Gulf. They also face continued threats from habitat loss and watercraft collisions.
In 2016, Buchanan formally objected to the U.S. Fish and Wildlife Service downgrading the manatee's ESA designation from endangered to threatened, noting that the FWS may have been using outdated data to support the reduction in protection. Buchanan was concerned the manatee's population would decline if their status was downgraded to threatened. The manatee was previously listed as an endangered species dating back to 1966.
The Manatee Protection Act has received strong support from leading animal welfare groups including Animal Wellness Action and the Save the Manatees Club.
"Representative Buchanan and Soto are right in sending up a flare to the U.S. Fish and Wildlife Service about the rash of manatee deaths across coastal Florida," said Wayne Pacelle, president of Animal Wellness Action. "Manatee mortality has nearly tripled since last year, even though it's just August. The United States and Florida officials must reassess their management strategies and that work must start with a designation of manatees as endangered under federal law."
"Save the Manatee Club supports the bold decisive actions of Congressmen Vern Buchanan and Darren Soto. The tragic loss of nearly 20% of the Florida manatees' East Coast population in just 6 months alone, confirms what a tragic mistake it was for manatees to be prematurely taken off the list of Endangered Species," said Patrick Rose, Aquatic Biologist and Executive Director of the Save the Manatee Club. The 2017 decision by the U.S. Fish and Wildlife Service took place over the objections of scientists who warned the agency that such tragic consequences were likely to occur. While Save the Manatee Club recognizes that direct Congressional action is unusual, we believe the emergency nature of the problems facing imperiled manatees warrant such immediate action in order to ensure the necessary recovery actions are taken in time to reverse these devastating consequences of failing to protect the manatees' Critical Habitat within the Indian River Lagoon and elsewhere."
In a June letter to FWS, Buchanan called on the agency to upgrade the manatee from "threatened" to "endangered," citing the degradation of the water quality in manatee habitats, growing levels of water pollution and an increase in harmful algal blooms that kill off seagrass.
The U.S. House recently passed a Buchanan measure to transfer $2 million to FWS to examine the record number of manatee deaths in Florida this year and report to Congress on ways to protect the species.
###