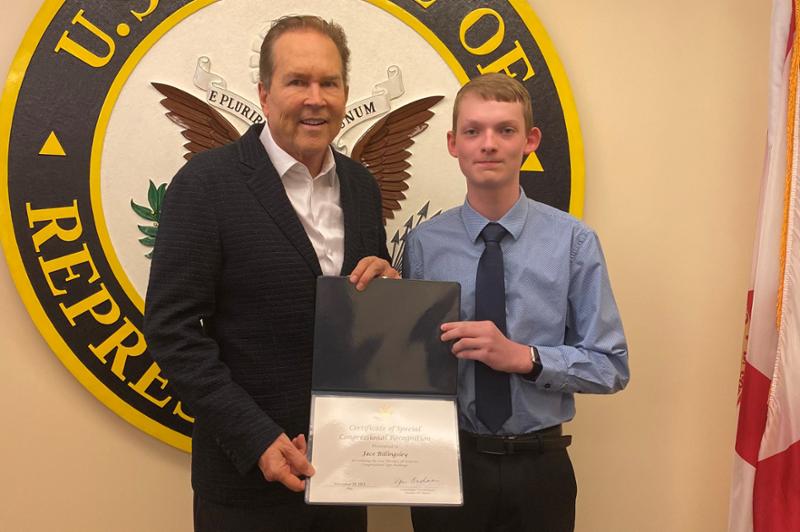 SARASOTA, Fla — Congressman Vern Buchanan on Monday recognized Jace Billingsley as the winner of the 2021 Congressional District App Challenge. Billingsley designed a software application to help health care workers administer the American Heart Association's recommended interventions used to resuscitate patients experiencing cardiac or respiratory failure, also known as a "code blue."
Buchanan hailed the ingenuity of Billingsley, saying "I can't commend him enough for inventing such an important and potentially life-saving tool. I'm proud to name Jace this year's winner of the 16th Congressional District App Challenge, part of a national competition to encourage interest in science, technology, engineering and math."
Jace Billingsley is 13-years-old and a 7th grade student at Buffalo Creek Middle School in Palmetto, Fla.
"STEM education gives students the tools they need to succeed and help the U.S. compete in an increasingly global 21st century economy," Buchanan continued. "Children are 25 percent of the population, but 100 percent of the future, and the future is in good hands with students like Jacob."
The winning entry, "The Code Blue App" is made for hospital staff and other health care workers to help accurately time the various and simultaneous physical, electrical and chemical interventions used to resuscitate a patient when they experience cardiac or respiratory failure. The American Heart Association regularly updates the sequence and timing of these actions, which are built into The Code Blue App to assist the health care worker save lives during a code blue emergency. The app also records the necessary data needed for the patient's medical records and downloads the file to a computer.
The app will be featured on CongressionalAppChallenge.us and will also be eligible to have photos of its interface displayed in the U.S. Capitol.
"I enjoy working with practical applications and I cannot think of anything more practical than an app that could be used by hospitals to help save someone's life," said Billingsley. "My dad works in healthcare and participates in code blues regularly. The Code Blue App can help healthcare workers in the event of a code blue, where timing is most critical."
The U.S. Bureau of Labor Statistics forecasts overall employment in the economy to grow by 7.7 percent between 2020 and 2030, while jobs in STEM fields are expected to grow by 10.5 percent. According to the U.S. Department of Commerce, college-educated STEM job holders earn between 29 percent and 39 percent more per hour than non-STEM employees with equivalent educational attainment.
The Congressional App Challenge was created by the U.S. House of Representatives in 2015 and allows students to compete against their peers across the country by creating an app for desktop/PC, web, tablet, mobile, raspberry Pi or other devices. The challenge is designed to promote innovation and engagement in computer science.
###