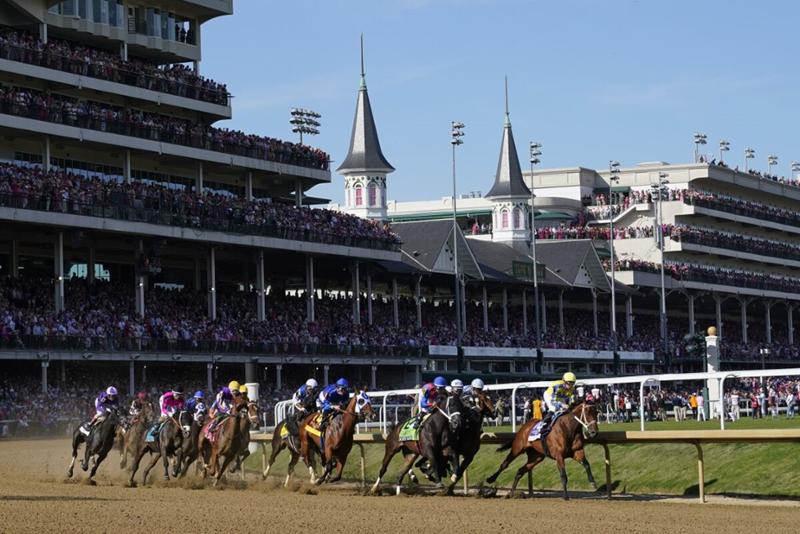 WASHINGTON – U.S. Reps. Vern Buchanan and Earl Blumenauer (D-Ore.) announced today that they led a letter to the new U.S. horseracing regulator demanding answers following the alarming deaths of nine thoroughbreds in the weeks surrounding this year's Kentucky Derby and Preakness Stakes. Buchanan and Blumenauer were joined on the letter by a bipartisan group of 14 other members of the U.S. House.

"This magnitude of animal suffering is an unacceptable price to pay for entertainment," said the members in the letter.
In the letter sent to Lisa Lazarus, chief executive officer of the Horseracing Integrity and Racing Authority (HISA), which serves as the new federal regulator of horseracing in the United States, the group called for an immediate investigation into these concerning and untimely deaths and for the results to be made public.
The letter also asked for an update on what steps are being considered to prevent future deaths, including any enforcement mechanisms under the Horseracing Integrity and Safety Act, which was signed into law in December 2020. The group also asked if HISA will expand its investigation to examine other potential factors, such as breeding techniques, veterinary medicine and training methods in order to determine if they play a role in horseracing deaths.
Eight horses died in a three-week span at Churchill Downs. Of those eight, two were characterized by the racetrack as "highly unusual." Two weeks later, an additional horse died as the result of a broken leg in a race prior to the Preakness Stakes. According to The Jockey Club's Equine Injury Database, from 2009-2021, 7,274 thoroughbred deaths occurred.
Buchanan, who co-chairs the Animal Protection Caucus in Congress, is a leading advocate for protecting endangered species and ending animal cruelty, introducing and co-sponsoring dozens of important animal measures. Most recently, he introduced the Save America's Forgotten Equines (SAFE) Act to permanently ban the slaughter of horses for human consumption and prohibit the export of live horses to Mexican and Canadian slaughterhouses to be sold overseas. In 2019, Buchanan's legislation, the Preventing Animal Cruelty and Torture (PACT) Act, was signed into law, which banned extreme forms of animal cruelty and torture. The PACT Act was the nation's first federal animal cruelty law.
You can read the letter to HISA here or below.
Dear Ms. Lazarus,
We write with great concern about the troubling spate of horse fatalities that occurred at Churchill Downs in the leadup to this year's Kentucky Derby. As you know, eight horses have died since April 27, including two deaths characterized by the racetrack as "highly unusual."1 This magnitude of animal suffering is an unacceptable price to pay for entertainment.
Unfortunately, these deaths are not isolated events. According to The Jockey Club's Equine Injury Database, between 2009-2021 a staggering 7,274 thoroughbred equine fatalities occurred.2 While we recognize the strides made to prevent racing fatalities, the American public is understandably alarmed by the risks to animal welfare demonstrated on the world stage in the lead up to the Kentucky Derby.
As you undertake an investigation into the incidents, we request that the results of the necropsies and a comprehensive report be made public to provide transparency and exemplify your commitment to the integrity of the sport. We also urge careful review of each horse's medical records to ascertain whether any preexisting conditions contributed to any of the injuries. Additionally, we request answers to the following questions:
What steps is HISA considering taking to prevent future horseracing deaths, including in its enforcement of the Horseracing Integrity and Safety Act?
Is HISA planning to expand its investigation to consider a holistic perspective which examines how breeding techniques, equine medicine, and training practices contribute to horseracing deaths?
We were heartened to see HISA's racetrack safety rules go into effect last July and look forward to the robust implementation and enforcement of the expected Anti-Doping and Medication Control rules later this month.
We respectfully request an update 60 days after receiving our letter on the status of any investigations into the racehorse fatalities in the days leading up to the Kentucky Derby, and that you keep us apprised of any review of safety measures and what reforms can be instituted to prevent a similar situation in the future.
We look forward to hearing from you on this important matter.
Sincerely,
###