U.S. Humane Society Praises Buchanan as "Legislative Leader"
Group Honors Buchanan for Protecting Wildlife and Preventing Animal Cruelty
WASHINGTON –In a ceremony at the U.S. Capitol, the U.S. Humane Society presented Congressman Vern Buchanan with its Legislative Leader Award last night for his record on behalf of animal welfare issues.  The award focused on the release of the 2014 Humane Society scorecard, which gave Buchanan one of the highest grades in Congress.
"We are tremendously grateful to Congressman Buchanan for his work to celebrate the human-animal bond, and to stop abuses such as animal fighting, shark finning, horse slaughter, the pet trade in large constrictor snakes, and inhumane factory farming practices," said Michael Markarian, president of the Humane Society Legislative Fund. "Congressman Buchanan has been at the forefront of federal policies to prevent animal cruelty and protect wildlife such as Florida's treasured manatees."
Buchanan's Humane Society score reflects his votes and leadership on key animal welfare issues in Congress last year.  This includes voting to preserve the Endangered Species Act, sponsoring legislation to ban the slaughter of horses and sharks and fighting to protect endangered gray wolves.
Out of 234 Republicans in the U.S. House, Buchanan was one of three to obtain a score of 83 or higher.  The grade ranks tops among all Republicans in the Florida Delegation.
The Congressman said he was "honored to receive the Humane Society's recognition."  He said, "promoting the humane treatment of animals and preventing abuse is an issue we can all rally behind."
Last week, Buchanan introduced bipartisan legislation (H.R. 1942) that permanently bans the killing of horses for human consumption in America.  It also bans the export of live horses to Mexican and Canadian slaughterhouses where the animals are killed and then shipped overseas.
The Humane Society of the United States (HSUS) is the nation's largest animal protection organization, rated the most effective by its peers.  Since 1954, the HSUS has been fighting for the protection of all animals through advocacy, education, and hands-on programs.  The HSUS rescues and cares for tens of thousands of animals each year, but its primary mission is to prevent cruelty before it occurs. 
Buchanan's support for animal welfare bills in 2014, include:
Co-Sponsor of H.R. 366, the Animal Fighting Spectator Prohibition Act: Establishes stricter penalties for attending organized animal fights
Co-Sponsor of H.R. 2856, the Captive Primate Safety Act: Prohibits primates such as monkeys or apes from being purchased or transported across state lines by individuals for use as pets
Co-Sponsor of H.R. 847,  the Puppy Uniform Protection Act: Closes a federal loophole that allows puppy mills to sell dogs over the Internet without any oversight
Co-Sponsor of H.R. 1518, the PAST Act: Ends the practice by trainers of intentionally inflicting pain through chemical injections into the legs or hooves of a horse to alter its gait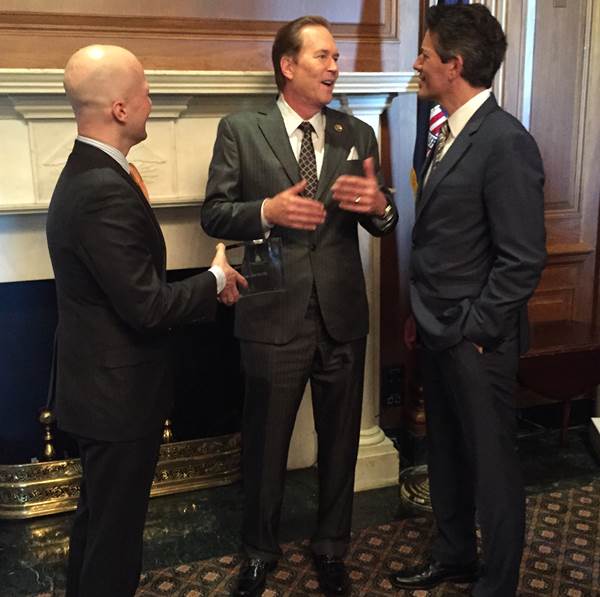 Humane Society President Wayne Pacelle and Legislative
Fund President Michael Markarian present Buchanan award