CDC Chief Warns FL Delegation of Looming Zika Threat
Calls Mosquito that Spreads Virus "The Cockroach of Mosquitoes"
"We Can't Protect Women and Children"
WASHINGTON — The nation's top disease fighter told the Florida congressional delegation today that his agency lacks adequate funding to deal with the Zika virus and that a vaccine "will take years to develop." Twelve members of Congress from both parties attended the meeting, which was chaired by Rep. Vern Buchanan.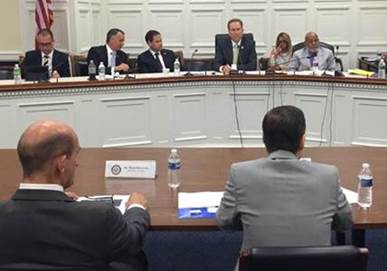 Buchanan (third from right) listens to health experts discuss Zika virus.
Dr. Tom Frieden, director of the Centers for Disease Control and Prevention, called the Zika virus "unprecedented – never before have we seen a mosquito-borne illness linked to a devastating birth defect. It will take years to develop a vaccine."

Frieden warned the delegation of the dire consequences of failing to quickly approve adequate funding to fight the disease. "We can't protect women and children," he said. "This is a much harder to kill mosquito than normal. This is the cockroach of mosquitoes. It lives indoors and outdoors, bites both day and night, and bites four or five at a time. It's very difficult to control."

Buchanan urged his colleagues to follow the advice of the health experts: "We must act quickly to stop the spread of Zika," he said. "Today we heard from a variety of experts about the grave threat Floridians face. I'm confident our delegation will be instrumental in encouraging Congress to put aside partisanship and give disease-fighters the resources they need to protect women and newborns."

Florida leads the country in the number of reported Zika cases. As of Tuesday there were 183 cases, according to the Florida Department of Health. The CDC reported 691 travel-related cases across the country.

Sarasota-based Dr. Vilma Vega, an infectious disease specialist, said the number of cases could quickly surge if no action is taken.

"No county in Florida is impervious to the Zika threat," Vega said. "The number of cases we have seen thus far is only the beginning. This virus could spread exponentially across the state of Florida in the months ahead. We must prepare and plan for the worst."

The Congressman was joined by Florida delegation co-chair U.S. Rep. Alcee Hastings, D-Fla., and several other members, including Reps. John Mica, Gus Bilirakis, Mario Diaz-Balart, David Jolly, Patrick Murphy, Ted Deutch, Debbie Wasserman Schultz, Kathy Castor, and Gwen Graham. U.S. Sen. Marco Rubio, R-Fla., was also present.

Buchanan was the first Republican in the U.S. House to support President Obama's request for $1.9 billion to fight the Zika virus. The emergency funding will expand education, prevention, and mosquito control programs, improve diagnostics and testing, speed the development of a vaccine and boost research into the complications of contracting the virus.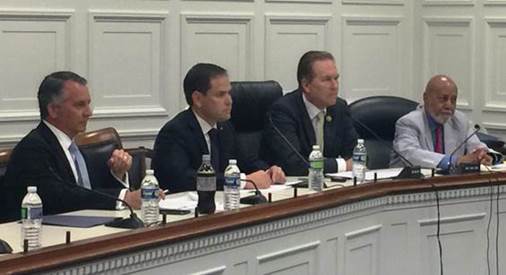 Buchanan (second from right) chairs the bipartisan meeting.
Congressional leaders in the House and Senate are currently negotiating an emergency funding package to contain and eradicate the deadly disease.

"We have a limited knowledge base to fight the invasion of Zika," said Dr. Mario Stevenson, chief of the division of infectious diseases at the University of Miami. "We need to build that knowledge base."

Mr. T. Wayne Gayle, executive director of Lee County Mosquito and Hyacinth Control Districts, noted that mosquito control efforts vary by county, and that not all can "respond equally to a mosquito-borne disease threat because of differing capabilities and funding levels."

Congressman Buchanan concluded the meeting by expressing his encouragement that members have started to cross the aisle to help find a compromise. 

"We need to outpace the virus," Buchanan said. "It's no longer a question of whether people will be infected, but when and how many."