Buchanan Wins YMCA Award
"Congressional Champion" for Youth Development
WASHINGTON — The national YMCA presented Congressman Vern Buchanan with the Congressional Champion Award yesterday for his work in support of youth development, healthy living and social responsibility.

"The YMCA is strengthening our communities and helping young adults learn positive values and life skills," Buchanan said. "I'm honored to accept this award, but we still have lots of work ahead to support our nation's youth."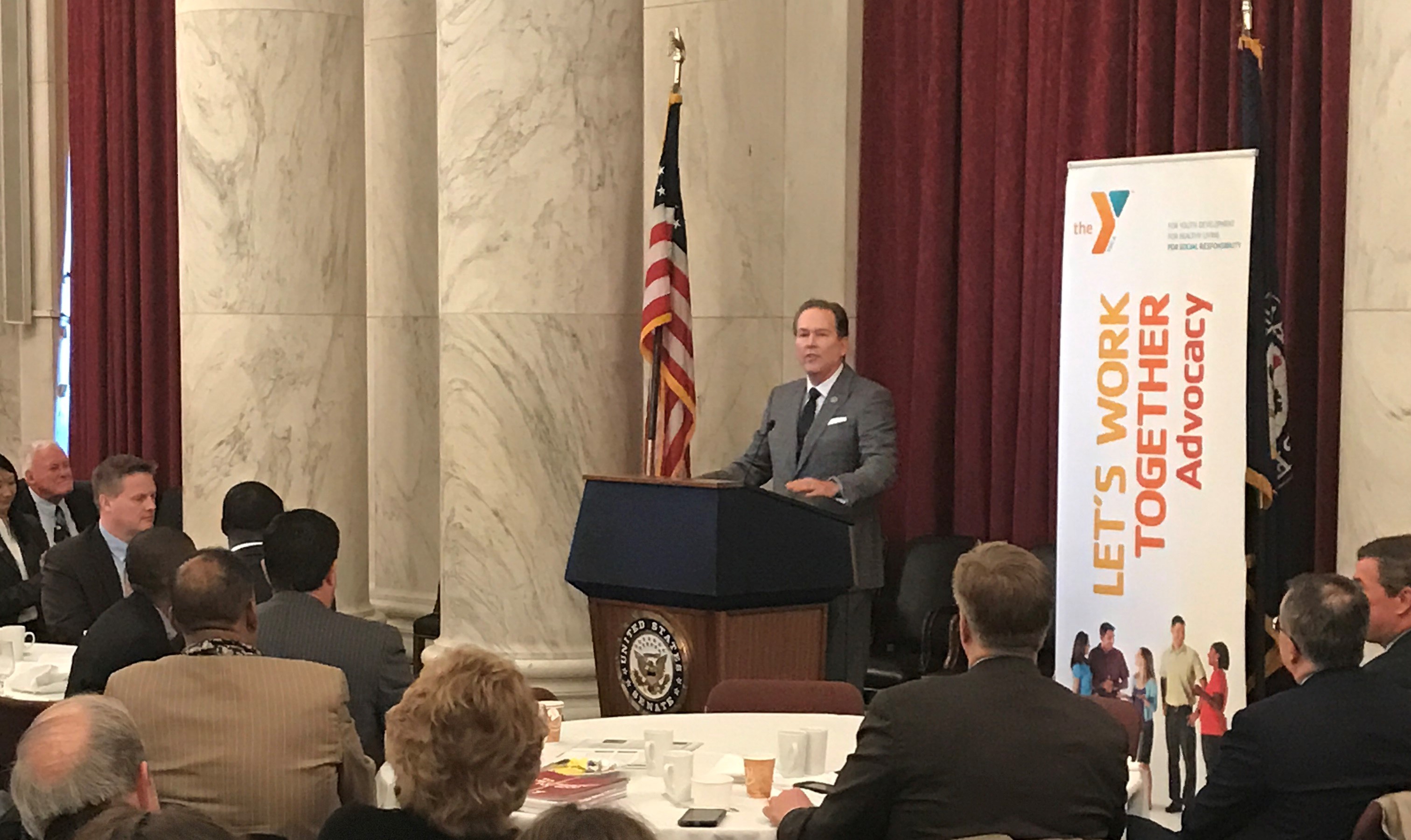 Buchanan talks to Y leaders at awards breakfast Wednesday in Washington
The awards breakfast was held in Washington as part of the YMCA's annual National Advocacy Days, when nearly 300 Y leaders from across the country meet in the nation's capital.

Laura Gilbert, interim president and chief executive officer of the Sarasota Family YMCA, met with Buchanan to discuss the Y's impact in Southwest Florida.

Buchanan (middle) talks with Laura Gilbert (second from left) and Y leaders
Neal Denton, chief government affairs officer for YMCA of the USA, thanked Buchanan for his leadership on the House Ways & Means committee, and his strong support for the Family First Prevention Services Act and Medicare Diabetes Prevention Act. 

Buchanan introduced the Family First Prevention Services Act – a bipartisan bill aimed at helping children stay at home with their families instead of being placed in group homes or foster care.

Over 500 state and national child welfare organizations supported the legislation in 2016, including the American Academy of Pediatrics, the Children's Defense Fund, the Child Welfare League of America and the North American Council on Adoptable Children. An identical version of Buchanan's bill passed the House unanimously in June 2016, but the Senate failed to act.

The Medicare Diabetes Prevention Act is aimed at helping prevent diabetes in seniors and reducing health care costs. The legislation, co-sponsored by Buchanan in the 114th Congress, would extend the benefits of the Centers for Disease Control's National Diabetes Prevention Program (NDPP) to seniors under Medicare. NDPP is an evidence-based lifestyle change program that has proven to reduce risk factors and prevent or delay the disease.