Buchanan Votes for "Veterans Access to Care Act"

Allows veterans to seek care outside VA system
Four Florida VA Facilities Under Investigation
WASHINGTON – U.S. Rep. Vern Buchanan, R-FL, today voted for legislation to help veterans receive timely access to medical care by allowing them to seek treatment outside the VA system.
The Veterans Access to Care Act (H.R. 4810), sponsored by House Veterans Affairs Chairman Jeff Miller, would require the VA to offer non-VA care to any enrolled veteran who resides more than 40 miles from a VA health clinic or cannot schedule an appointment within about two weeks. The bill would also ban bonuses for all VA employees for three years.
An internal VA audit released on Monday revealed that more than 57,000 veterans have been waiting at least 90 days for their first medical appointment. The report also cited that 13 percent of VA schedulers were instructed to falsify medical records to make patient wait times appear shorter. Four VA facilities in Florida, including Bay Pines in St. Petersburg, are among the 112 being investigated for possibly manipulating appointment data.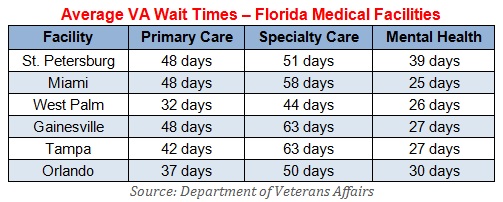 "Passage of today's bill is a necessary first step to ensure every veteran receives timely access to quality medical care," said Buchanan, an original co-sponsor of the House-passed bill. "Congress and the administration must now work toward a long-term solution to help disinfect a VA system fraught with bureaucratic negligence and abuse."
Buchanan, co-Chair of Florida's congressional delegation, will be hosting a bipartisan delegation hearing on Thursday to address alleged misconduct at VA medical facilities across the Sunshine State. Florida is home to 1.5 million veterans.
Buchanan served four years on the House Veterans Affairs Committee.
###