Buchanan Urges Federal Help Against Red Tide
Dead Fish Pollute Southwest Florida Beaches
Toxins Kill Marine Life and Harm Humans
WASHINGTON — U.S. Rep. Vern Buchanan, R-Fla., said today Congress should help address the red tide outbreak in Sarasota and Manatee counties as part of the year-end government funding bill.

For the last several weeks thousands of dead fish have washed ashore on beaches in Sarasota and Manatee counties as a result of red tide, harming the Suncoast environment and economy.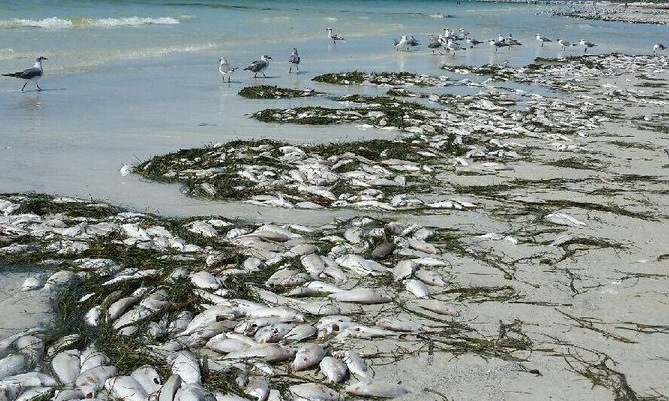 Red tide has killed thousands of fish along Southwest Florida beaches.
(Photo Credit: Manatee County Public Safety Department.)
Buchanan said upon his return to Washington next month he will urge congressional leaders to include funding to combat the harmful red tide algal blooms, also known as Karenia brevis, in any year-end government funding package. He said the federal funds are needed to research how red tide forms, how it dissipates and to understand its impact on humans and animals.

The Congressman noted that while he was encouraged to see the U.S. House recognize the "increasing prevalence" and threat posed by red tide in the committee-passed Commerce, Justice, Science Appropriations bill, he said it was only "the first small step in combating the recurring crisis." He said Congress still needs to provide critical funding necessary to address this issue.

Harmful algae blooms cause $82 million in economic losses to the seafood, restaurant and tourism industries each year in the U.S., according to the National Oceanic and Atmospheric Administration.

"Red tide is a clear and visible threat to the Suncoast's environment and economy," Buchanan said. "The recent bloom is devastating vulnerable marine life and discouraging tourists from visiting our beaches and coastal businesses. Congress needs to help protect our seashore by boosting red tide research and mitigation programs."

Red tide has been documented along Florida's Gulf Coast since the 1840s and continues to ravage the coastline almost every fall. The tide produces a toxin that can harm and kill a variety of animals, including birds, fish, sea turtles, and marine mammals such as dolphins and the already endangered Florida manatee. In fact, the toxins from red tide blooms killed nearly 300 Florida manatees in 2013.

Red tide can also have devastating effects on humans. Shellfish from active red tide areas can cause poisoning in humans and should not be consumed, according to the Florida Department of Health.

Some people may experience coughing, sneezing, tearing and an itchy throat when near red tide blooms. The state's health department advises that people with severe or chronic respiratory conditions like asthma are especially vulnerable and should steer clear of red tide waters. People may also experience skin irritation and burning eyes.

"Southwest Florida is a beautiful, vibrant place to live and we need to take any threat to that standard of living seriously," Buchanan said. "We need to understand more about the toxins in red tide so we can stop their damaging effects."

Buchanan has been involved in efforts to fight red tide during his service in Washington. He was a co-sponsor of bipartisan legislation that called for $90 million in research on red tide and other harmful algal blooms to be distributed over the course of three years. Buchanan also supported legislation signed into law by President Obama in 2014 that authorized $82 million for new research into causes and control of algae blooms as well as for community response efforts.

Floridians can check red tide reports and beach conditions by visiting myfwc.com/redtidestatus or tidesandcurrents.noaa.gov/hab.