Buchanan, Tampa Hospital Discuss Drug Crisis
Congressman Tours New Medical Complex in Tampa
TAMPA — Congressman Vern Buchanan today visited Tampa General Hospital's new Brandon Healthplex and met with hospital staff to discuss ways to confront the drug epidemic in Florida.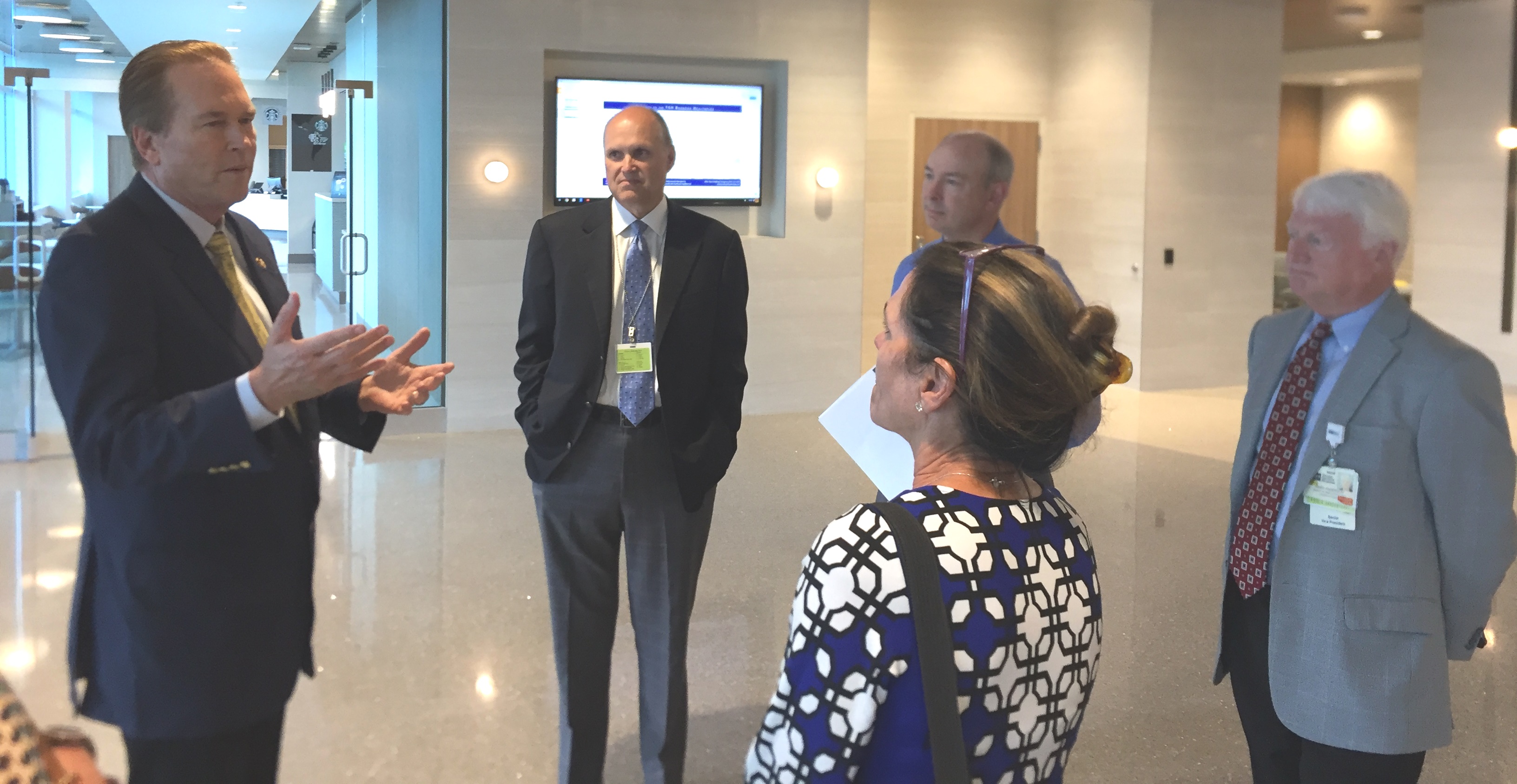 Buchanan speaks with leaders at Tampa General Hospital's new Brandon Healthplex
The visit comes on the heels of Buchanan's announcement that he is co-sponsoring sweeping legislation aimed at cutting off the flow of fentanyl into the United States. The bipartisan INTERDICT Act provides border agents with drug-detecting chemical screening devices at ports of entry and more personnel, including scientists, to detect drugs being sent into the U.S. from Mexico, China and other countries.

The complex, which opened in March, is Tampa General Hospital's first off-site, outpatient medical center.

Mark Anderson, senior vice president of ambulatory services, said in the emergency department alone the complex "expects to serve 20,000 to 25,000 patients in the first year," according to the Tampa Bay Times.
The four-story healthplex includes an ambulatory surgery center, diagnostic imaging and laboratory services, a pharmacy, a cafe, helipad and multiple primary and specialty care physicians' offices.

"The drug threat poses a greater risk to our region each day, and I'm grateful to learn today about this facility's efforts to confront the epidemic," Buchanan said. "I'm excited that Tampa General is expanding its footprint to serve Hillsborough County residents and look forward to working with its dedicated health care professionals."

To cut down on drugs entering the U.S. through the mail, Buchanan is also a co-sponsor of the Synthetics Trafficking and Overdose Prevention Act or STOP Act. The bipartisan bill requires more intensive screening at U.S. Postal Service facilities.

"Tampa's doctors and nurses are on the front lines of this public health emergency," Buchanan said.

Buchanan represents part of Hillsborough County, which accounted for 12 percent of all babies born addicted to opioids in Florida in 2015.