Buchanan Named to House Budget Committee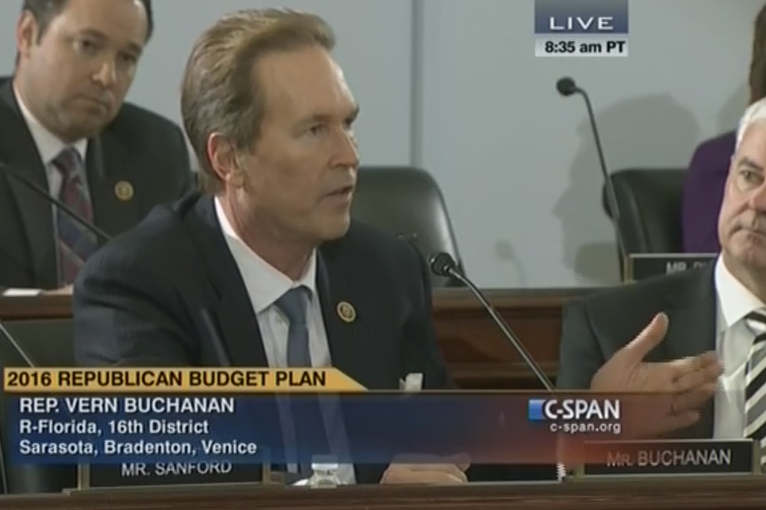 Rep. Buchanan Speaks at Budget Markup
Click on Image to View Video
WASHINGTON — U.S. Rep. Vern Buchanan, R-FL, has been appointed to the House Budget Committee, giving him a key role in reducing the debt, addressing Washington's out-of-control spending and preserving America's future.  
The Budget Committee is responsible for developing the annual budget, which provides a framework for federal spending, revenue levels and the fiscal policy of the United States.  The Committee, chaired by Rep. Tom Price, R-GA, also explores a number of reforms to ensure greater transparency, accountability, and certainty in the federal budgeting process.  
"I ran for Congress because I wanted to leave a better America for the next generation," said Buchanan, who is also a senior member of the House Ways & Means Committee.  "Washington's irresponsible spending policies have created a mountain of debt for our children and grandchildren.  As a businessman for over 30 years, I know what it means to balance a budget and meet a payroll.  I look forward to joining Chairman Price and the other committee members as we work to grow the economy, create jobs, and reduce the massive federal deficit."
House Ways & Means Committee Chairman Paul Ryan, R-WI, said "Vern knows better than anybody how important it is to balance a budget and protect seniors in retirement, and he'll be an important voice on the committee."
Budget Committee Chairman Tom Price said "As the House Budget Committee is working to advance policies to address our nation's fiscal and economic challenges, Congressman Buchanan will be an invaluable part of this team effort. I appreciate him joining the committee as we work to advance positive, responsible solutions."
Buchanan said he was looking forward to voting for a budget resolution later today that cuts $5.5 trillion in spending, reduces the federal debt by $5.6 trillion, and balances the budget in nine years.  The plan also calls for a Balanced Budget Amendment to the U.S. Constitution — the first measure Buchanan introduced as a member of Congress.