Buchanan Meets with World Leaders in Asia
Message to Japan's Prime Minister: Open Markets to American Goods
America's Growth Depends on Access to Foreign Markets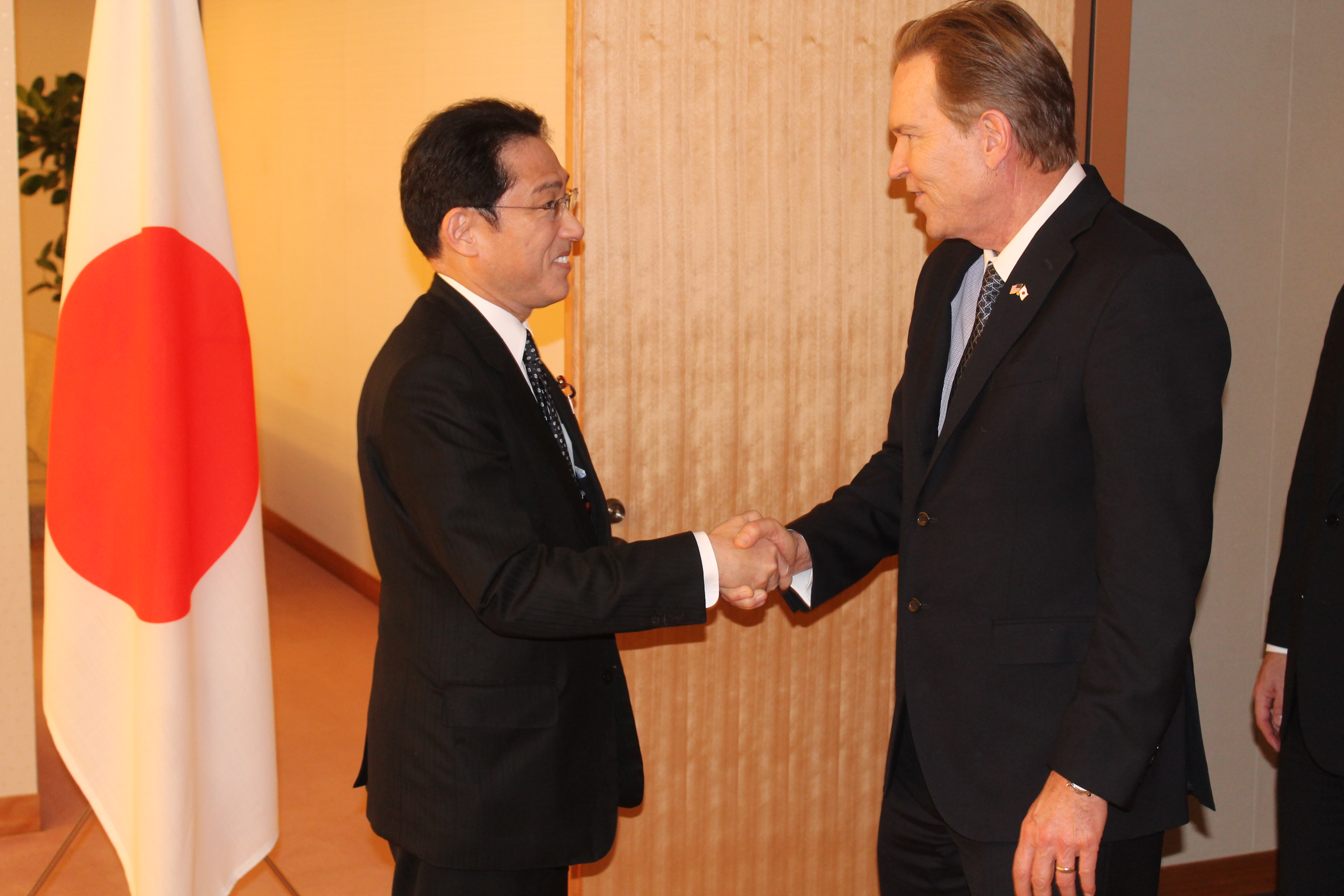 Buchanan Meets with Japanese Foreign Minister Fumio Kishida
WASHINGTON – Congressman Vern Buchanan (R-FL), a senior member of the Trade Subcommittee, met with world leaders in Asia last week to help open American markets  in the Pacific region.  Buchanan visited with the prime ministers of  Japan, Singapore and Malaysia to discuss the pending Trans-Pacific Partnership (TPP), a free trade deal between the U.S, Japan and 10 other countries that account for 40 percent of global economic output.
"Increasing America's access to foreign markets is critical to growing the U.S economy and creating jobs," Buchanan said, noting that trade is of enormous importance to Florida, the third largest state.  "After meeting with our regional allies in Asia, I am more committed than ever to reaching a fair agreement that is good for Florida and restores America's rightful standing as the world's global leader."
The bipartisan trade mission was led by Ways and Means Chairman Paul Ryan and included meetings with Japanese Prime Minister Shinzo Abe, Japanese Foreign Minister Fumio Kishida, Malaysian Prime Minister Najib Razak and the President of Singapore, Tony Tan.  
A U.S.-Japan agreement is viewed as critical to the success of TPP.  Currently, both countries are at an impasse over Japan's refusal to open up access to its agricultural markets, specifically pork, beef, rice, diary, and sugar.  After meeting with Japanese Prime Minister Shinzo Abe, Buchanan expressed optimism that the terms of a final agreement could be reached in the coming months.
Members of the trade mission were also briefed by U.S. Ambassador to Japan Caroline Kennedy on a range of regional and bilateral issues.
A recent poll by the Business Roundtable revealed the vast majority – more than 80 percent of Americans – support the U.S. negotiating trade agreements to expand market access for goods and services around the globe.  Earlier this month, Buchanan urged President Obama to rally members of his own party to support Trade Promotion Authority (TPA) legislation.  "Bipartisan trade agreements could serve as an excellent example of what Washington can accomplish when both parties come together to help create jobs and increase America's competitiveness in the global marketplace," Buchanan said.
Buchanan is the only Florida member to serve on the Ways & Means Committee, which has jurisdiction over international trade policy.
###