Buchanan Meets with Sun City Residents
Speaks to Nearly 100 Seniors, Vets & Business Owners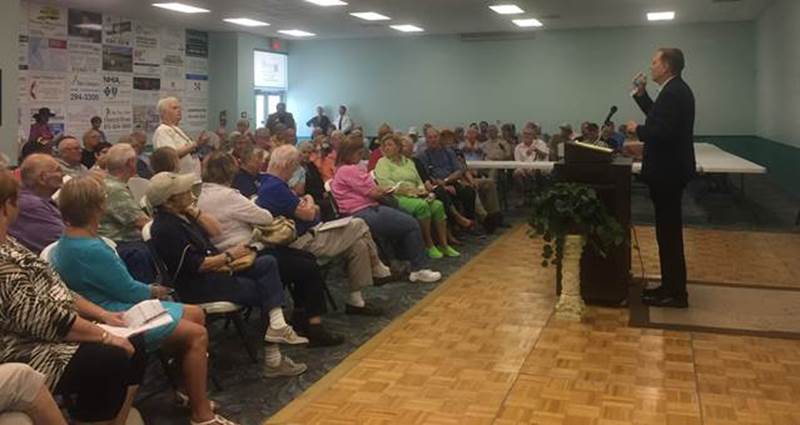 Buchanan (right) addresses residents of Sun City Center
SUN CITY, Fla — Congressman Vern Buchanan today addressed a group of nearly 100 people at Sun City Center, saying job growth, caring for veterans and protecting Social Security and Medicare are among his top priorities.

The Congressman also told the group he is working to promote a bipartisan approach to break through Washington gridlock.

Buchanan is co-chair of the 29-member Florida congressional delegation and works with his colleagues from both parties to advance issues important to Florida, such as retirement security, a healthy environment, flood insurance and strong economic growth.

The meeting was hosted by the Sun City Center Chamber of Commerce.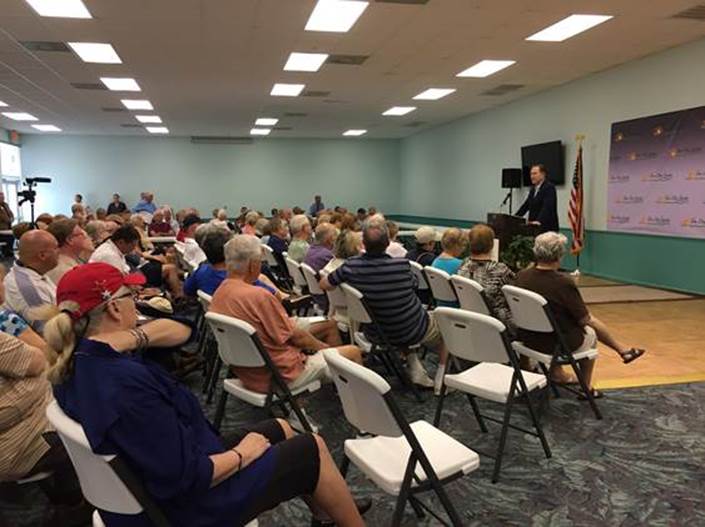 Buchanan (right) answers a question from the audience
Buchanan noted Sun City and other parts of Hillsborough County were added to the 16th Congressional District last year. "I'm excited to be your new congressman and your voice in Washington," he said. "Please let me know how I can help because I work for you."

Buchanan highlighted his top priority issues, including protecting Medicare and Social Security, caring for veterans, growing the economy and creating high-paying jobs through tax reform and reversing unnecessary regulations.

He also spoke on combatting the local heroin crisis, the fight against citrus greening and the impact of red tide on the region.

"Republicans and Democrats need to put politics aside and do what's right for the people," Buchanan said.