Buchanan Honored by U.S. Humane Society
Strong Record of Protecting Animals
WASHINGTON – The Humane Society of the United States on Wednesday awarded Congressman Vern Buchanan its "Legislative Leader" award for his work in Congress to protect animals.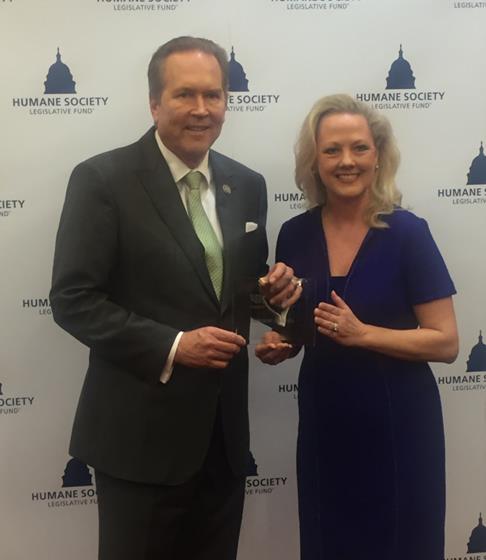 Buchanan is presented with the award by Sara Amundson of the Humane Society
 Buchanan co-chairs the bipartisan Animal Protection Caucus and last year was the first Congressman from Florida ever to receive the Humane Society's top honor, Legislator of the Year.

The latest award was presented to Buchanan by Sara Amundson, the executive director and senior vice president of the Humane Society's Legislative Fund, in a ceremony at the U.S. Capitol last night. Buchanan was honored for his 2016 congressional record, which included support for outlawing horse slaughter, banning cosmetics testing on animals and protecting endangered species.

Humane Society CEO and President Wayne Pacelle said: "Representative Buchanan has been a forceful champion for animals again in 2016, as a lead sponsor of the SAFE Act to stop horse slaughter for human consumption and a sponsor of the AWARE Act to bring humane care standards to farm animals used in federal research. He also co-led a letter to the Department of Interior challenging plans for wild horses on federal land, and fought for endangered species, voting to sustain ESA protections for gray wolves in the lower 48 states and challenging the U.S. Fish and Wildlife Service on its decision to downgrade manatees from endangered to threatened status. We are so grateful for his stalwart support and compassion."

Buchanan said he was honored to be recognized for his record on animal welfare issues. "Safeguarding threatened wildlife and promoting animal welfare should be a nonpartisan issue important to everyone," he said.

His strong record of defending animals includes opposing weaker protections for the manatee and urging the U.S. Department of Agriculture to restore a database of animal cruelty information that the department removed suddenly and without notice. He has also introduced the Safeguard American Food Exports (SAFE) Act, bipartisan legislation that permanently bans the transport of horses to slaughterhouses in Mexico to be sold around the world.

Buchanan is also a strong supporter of the Endangered Species Act and has fought to stop U.S. slaughterhouses from killing horses for human consumption.