Buchanan Honored For Record of Creating Jobs, Growing Economy
U.S. Chamber Award Presented To Congressman
"When Small Businesses Succeed, the American People Succeed"
WASHINGTON — The U.S. Chamber of Commerce today presented Congressman Vern Buchanan, R-FL, with the Spirit of Enterprise Award for his legislative record of creating jobs and growing the economy.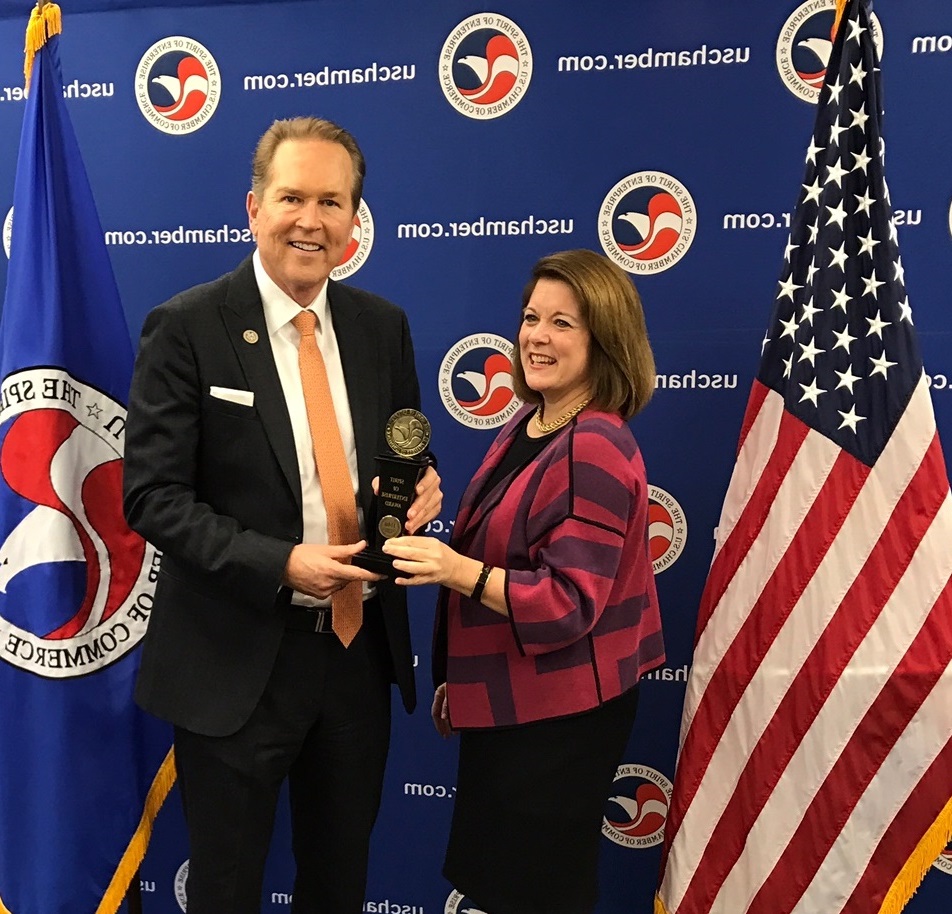 Rep. Buchanan accepts the Spirit of Enterprise Award from Suzanne Clark,
senior executive vice president of the U.S. Chamber of Commerce
The award was given to Buchanan based on his votes in Congress to grow jobs, rein in abusive regulations and support American manufacturing. Buchanan earned a legislative rating of 92 percent from the U.S. Chamber in 2016.

"The Spirit of Enterprise Award recognizes those members of Congress who have done what's right for our friends, family, and neighbors running businesses across the country," said Tom Donohue, president and chief executive officer of the U.S. Chamber of Commerce.

In Florida, small businesses are responsible for three million jobs and account for 99 percent of all employers, according to the U.S. Small Business Administration. Buchanan has worked tirelessly to help these job-creators grow and expand the economy. 

Buchanan said it was a tremendous honor to be recognized by the U.S. Chamber of Commerce. "As a businessman myself, I know how critical our local businesses and employers are to sustaining a successful and thriving economy. When small businesses succeed, the American people succeed. I look forward to championing pro-growth legislation this year."

Buchanan is a well-respected leader in Florida's business community and has created thousands of jobs during his 40-year career in business. He chaired both the Florida Chamber of Commerce and the Sarasota Chamber of Commerce. He was also a member of the Board of the U.S. Chamber, and in 2005 he was inducted into the Tampa Bay Business Hall of Fame. Buchanan sits on the powerful Ways and Means Committee, which has jurisdiction over federal tax policy, health care, Medicare and Social Security.