Buchanan: Hector Cafferata A True American Hero
Venice Native and Medal of Honor Recipient Passed Away This Week
"We Should All Mourn His Loss" 

WASHINGTON – U.S. Rep. Vern Buchanan, R-FL, today expressed his sincerest condolences on the passing of Medal of Honor recipient Private First Class Hector Albert Cafferata, Jr., of the U.S. Marine Corps. Private Cafferata passed away on Tuesday, April 12 in Venice, Florida at the age of 86.

Cafferata was awarded the Medal of Honor for "conspicuous gallantry and intrepidity at the risk of his life above and beyond the call of duty" in Korea on November 28, 1950, while serving as a rifleman with the famed 1st Marine Division.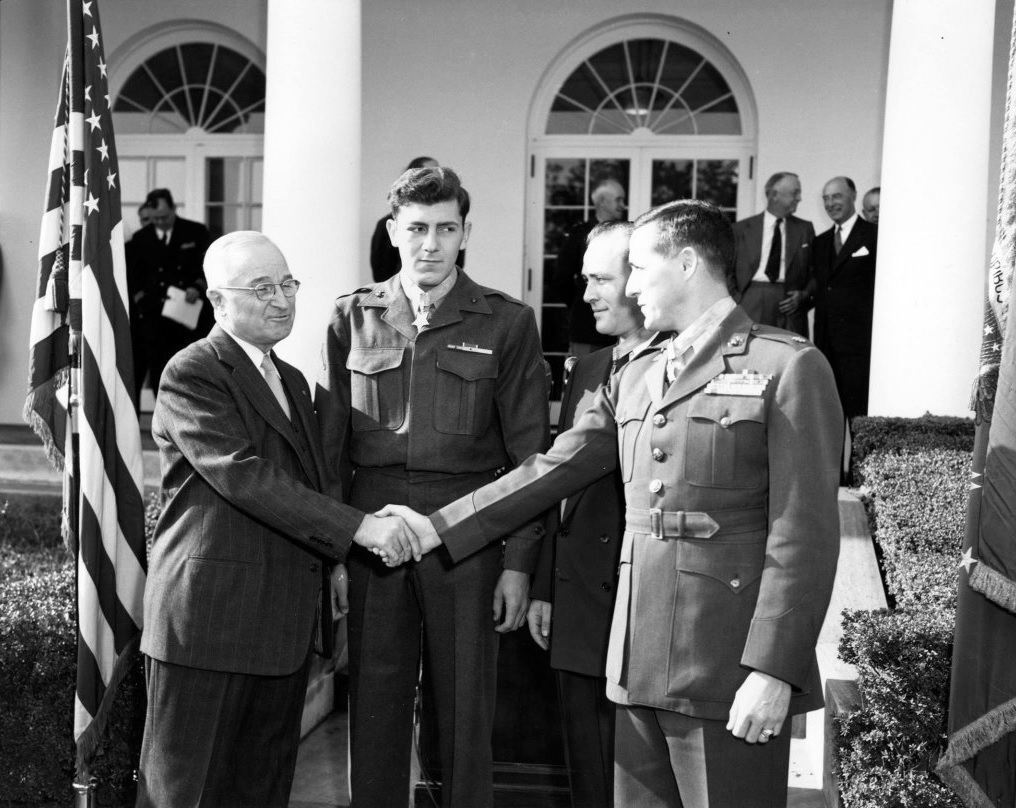 Private Cafferata, second from the left, was awarded the Medal of Honor by President Harry Truman during a White House ceremony on November 24, 1952. Photo credit: U.S. Marine Corps.
"Hector Cafferata was a true American hero, and his passing is a solemn loss for our country," Buchanan said. "Private Cafferata's brave actions to singlehandedly hold off the enemy saved the lives of many of his fellow Marines that day, exemplifying his selfless service and sacrifice to our country. We should all mourn his loss."

Private Cafferata played semi-pro football and was working at the Sun Dial Corporation when he enlisted in the Marines in 1948, according to the Congressional Medal of Honor Society. A member of the 2nd Battalion, 7th Marine Regiment, 1st Marine Division, Cafferata was deployed to Korea in October 1950.

On November 28, 1950 during the Battle of Chosin Reservoir his company was ordered to hold the Tokong Pass – the only escape route for the two Marine regiments in the area. While stationed outside the American perimeter, Private Cafferata came under attack by a large Chinese unit in the middle of the night. Despite subzero temperatures, he began returning fire before he could even put on his coat and boots.

Private Cafferata managed to take cover in a dry riverbed, while taking fire from enemy riflemen, automatic weapons, mortars and grenades. Maneuvering along the riverbed, he returned fire and batted away grenades with an entrenching tool. As Private Cafferata attempted to repel an enemy grenade, it detonated, causing severe injuries to his hand and arm. Despite his injury, he held the line until reinforcements arrived and the Chinese troops withdrew.

Over the course of the seven-hour battle, he singlehandedly fended off waves of attacks and was responsible for 125 enemy casualties. While returning to his original post to retrieve his coat and boots, he was struck by sniper fire in the chest and arm. He was evacuated to Japan for medical treatment.

Private Cafferata was awarded the Medal of Honor for these actions by President Harry Truman during a White House ceremony on November 24, 1952. In addition to the Medal of Honor and the Purple Heart, Private Cafferata's medals include the Presidential Unit Citation, the Korean Service Medal with one bronze star, the National Defense Service Medal, the United Nations Service Medal and the Korean Presidential Unit Citation.

Last year Buchanan honored Cafferata in a speech on the U.S. House floor as part of a special congressional ceremony honoring every living Medal of Honor winner.