Buchanan Gives Keynote Speech on Tax Reform
Tells Bipartisan Policy Center Congress Needs to Reduce Rates on Small Business
WASHINGTON — Congressman Vern Buchanan, in a keynote address to the Bipartisan Policy Center, said today Congress needs to act swiftly and reduce tax rates on small businesses to jumpstart the economy.

Appearing before a group of nearly 100 government and business leaders, Buchanan said, "In the past three decades, we have never been better positioned to achieve sweeping tax reform."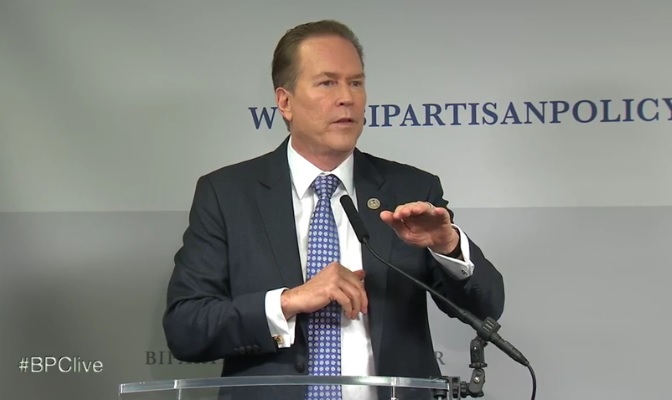 Buchanan answers a question on tax reform from the audience.
Buchanan spoke about the need to reduce the tax burden on small businesses in order to spur job creation and economic growth. The event also featured a panel of tax experts moderated by Richard Rubin, a reporter with the Wall Street Journal.

The event was on the topic of taxes paid by small businesses, which account for more than 90 percent of all American businesses. Unlike corporations, these businesses file their taxes as individuals and pay much higher rates than large corporations.

"We need policies that jumpstart the economy," Buchanan said. "Congress should be focused on assisting small businesses that create good-paying jobs for all Americans."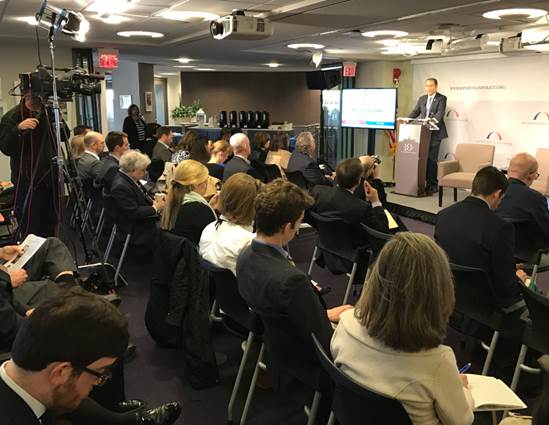 Buchanan (behind podium) addresses the crowd.
Buchanan's signature bill on the topic, the Main Street Fairness Act, would ensure that small businesses never pay a higher tax rate than large corporations.

A blueprint released earlier this year by House Speaker Paul Ryan and Ways and Means Chairman Kevin Brady called for Congress to "build on concepts developed by Rep. Vern Buchanan of Florida in his Main Street Fairness Act."

The principle behind Buchanan's bill is also a part of a tax cut package supported by President Donald Trump.

The businesses that would be helped by Buchanan's bill account for more than 68 million jobs.

The Bipartisan Policy Center was founded by former Senate leaders Howard Baker, Tom Daschle, Bob Dole and George Mitchell and is a respected voice in Washington's policy debates.

Buchanan's Main Street Fairness Act will establish that businesses that file taxes as passthrough income, such as sole proprietorships, partnerships, LLCs and S corporations, will never pay a higher rate than a corporation.

Under current law, corporations pay a maximum tax rate of 35 percent, while small business owners pay up to 39.6 percent under the individual income tax code on top of additional taxes on earnings and investments. These small businesses pay more than 50 percent of their income in taxes in some states; in Florida, they face an effective tax rate of 42.6 percent according to the Tax Foundation.