Buchanan Chairs Meeting on Red Tide, Water Quality
"Let's Get the Politics Out of This and Make a Difference"
WASHINGTON — U.S. Rep. Vern Buchanan today chaired a bipartisan Florida congressional delegation meeting that focused on the state's most pressing water issues.

Thirteen members of Congress from both parties heard about the harmful impact of red tide and toxic algae on the state's environment and economy.

"Let's get the politics out of this and make a difference," said Buchanan, who co-chairs Florida's congressional delegation with Rep. Alcee Hastings, D-Fla. "We should be doing all we can to preserve the natural beauty of our state's beaches and waterways. Coasts, lakes and rivers are key contributors to Florida's thriving economy and serve as a vital habitat for plants and wildlife."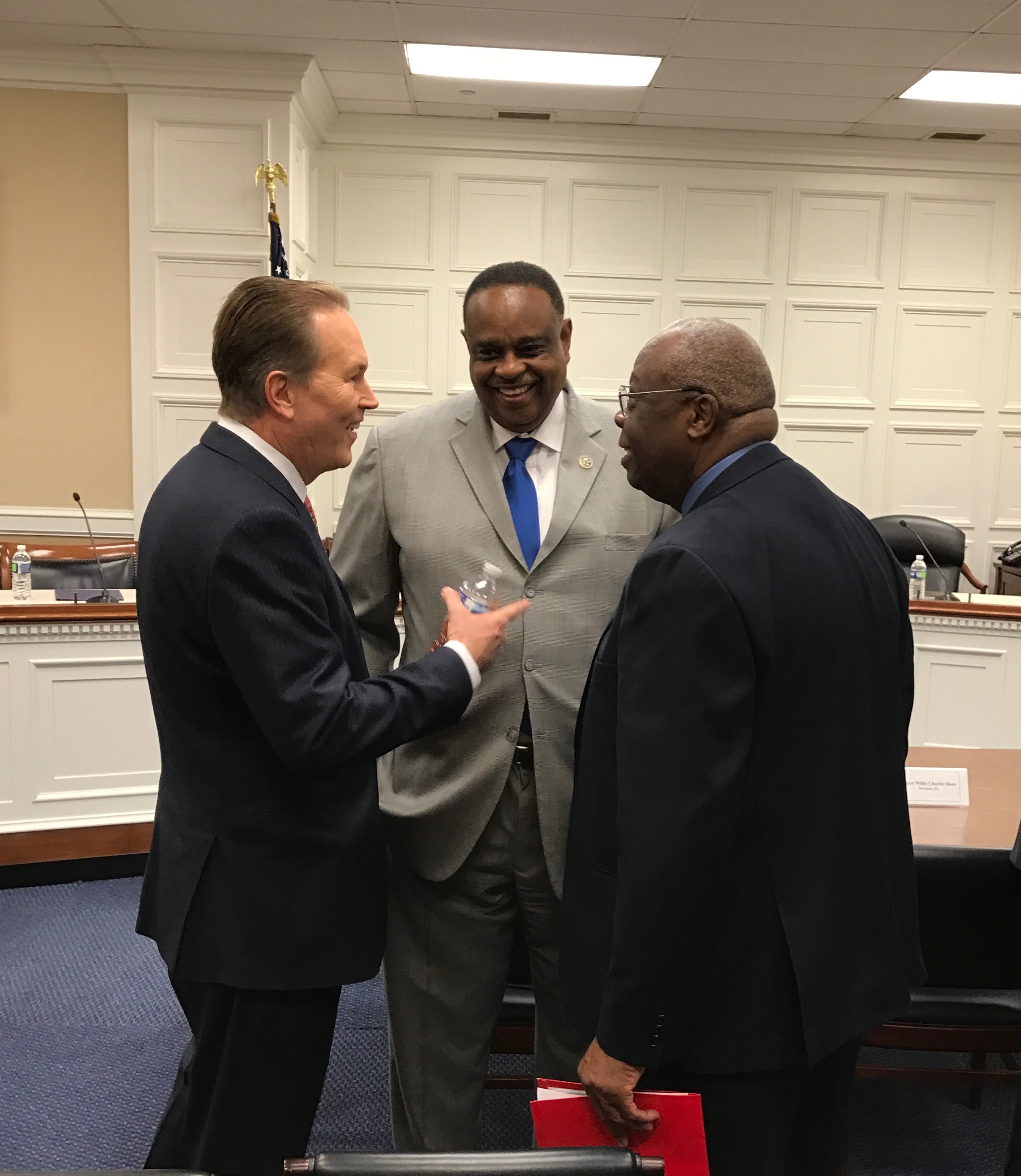 Buchanan (left) talks with Sarasota Mayor Willie Shaw (right) and U.S. Rep. Al Lawson, D-Fla.
Buchanan represents Sarasota, Manatee and part of Hillsborough counties, where red tide outbreaks have recently left thousands of dead fish along the Suncoast's shores.

"Red tide should be an inconvenience, not a crisis," said Dr. Richard P. Stumpf, an oceanographer with the National Oceanic and Atmospheric Administration (NOAA). Stumpf discussed improving forecasting for red tide and getting more information to the public.

Red tide produces a toxin that can harm and kill a variety of animals, including birds, fish, sea turtles and marine mammals such as dolphins and the endangered Florida manatee. It can also have devastating effects on humans, as shellfish from active red tide areas can cause poisoning.

Red tide season usually takes place from late summer to early fall. However, red tide has lingered in the Gulf of Mexico this season, washing up on Southwest Florida beaches in December and earlier this year.

This was the first meeting of the 29-member bipartisan Florida congressional delegation in 2017. Buchanan was joined by Florida delegation members U.S. Reps. Neal Dunn, Gus Bilirakis, Darren Soto, John Rutherford, Francis Rooney, Charlie Crist, Al Lawson, Ted Yoho, Debbie Wasserman Schultz, Frederica Wilson, Brian Mast and Lois Frankel.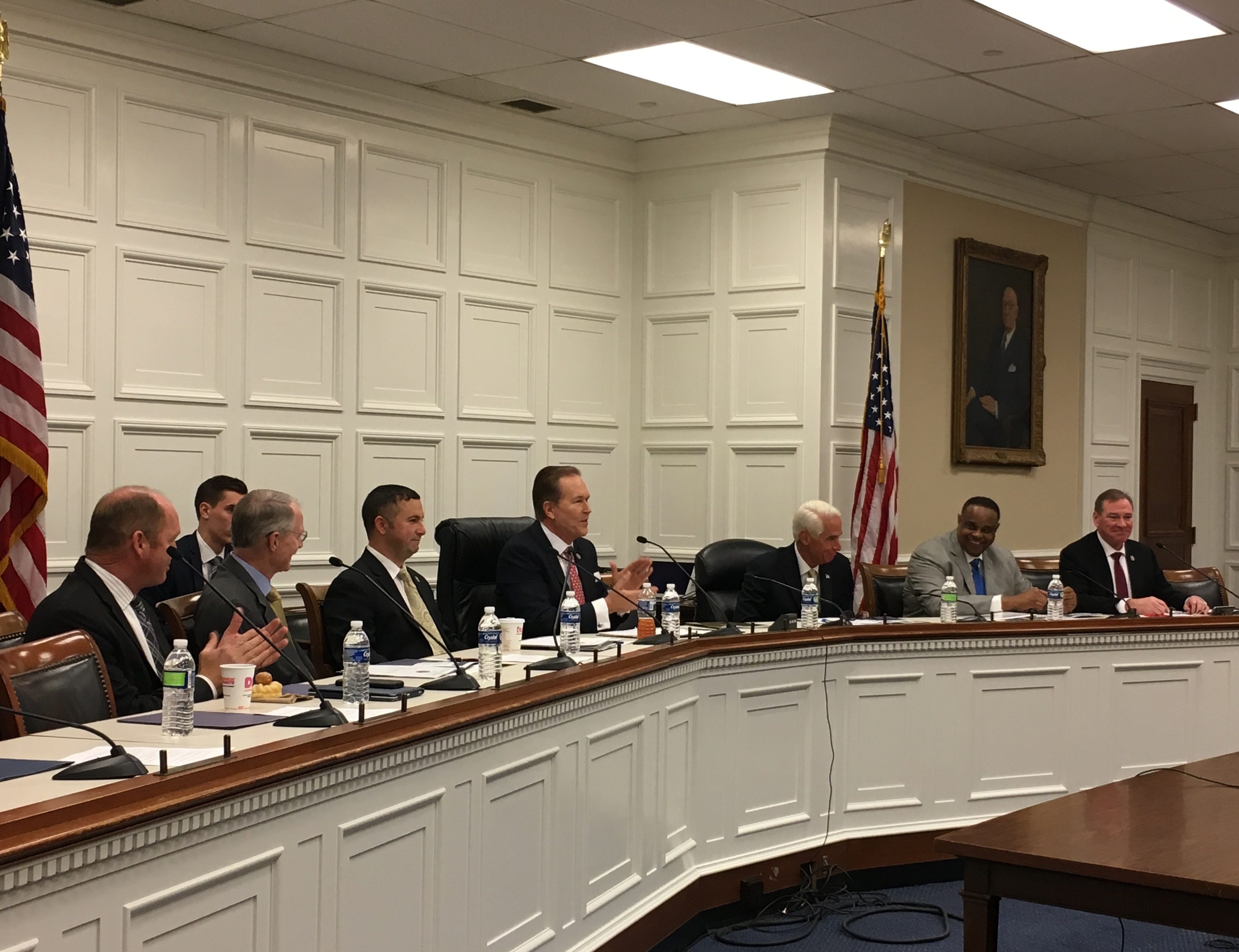 Buchanan (center) welcomes new Florida members of Congress.
Others panelists appearing before the delegation included Army Corps of Engineers Lt. Col. Jennifer A. Reynolds and Sarasota Mayor Willie Shaw.

Sarasota Mayor Shaw discussed the economic and environmental impact of beach erosion and the need for renourishment. Shaw said the coastline is not only essential to the quality of life in Sarasota, but also serves as a "shield against disasters." Lido Key Beach, Shaw said, has a $151 million annual impact on the economy.

"Without renourishment we lose. We lose as a city, we lose as a state," Shaw said.

Army Corps of Engineers Lt. Col. Jennifer A. Reynolds shared with members how critical is to release waters from Lake Okeechobee ahead of storms, noting that in 2016 the lake had 1 trillion gallons of water – enough to cover the state of Delaware in 2ft of water.

"Lake Okeechobee has 92 inches of water, and that doesn't include rainfall," Reynolds said. "During a storm the lake can rise three feet."

This past summer record amounts of toxic algae wreaked havoc across Florida, producing a bloom so large it was visible from space. The blue-green guacamole-thick algae, also known as cyanobacteria, forced many Floridians to wear masks near the water and some complained of skin rashes, headaches and respiratory issues, according to press reports.

Congressman Buchanan said he was encouraged that the meeting helped reinforce for members the importance of protecting Florida's waters for future generations. 

"We need to find bipartisan solutions to keep our waters clean," Buchanan said. "Our state's residents and visitors are depending on us."