Buchanan Chairs Hearing on Human Trafficking
Florida Delegation Told of "Monstrous Crimes"
Buchanan Calls for Action to Protect Children, Women
WASHINGTON — U.S. Rep. Vern Buchanan today called for greater action against human trafficking after chairing a Florida congressional delegation meeting that focused on the growing problem in the state.

Florida ranks third in the nation behind California and Texas in the number of reported trafficking cases and experienced a 54 percent increase last year. Children account for more than half the cases of human trafficking, a crime in which the victim is abducted or recruited for sexual exploitation. It can also involve illegal organ harvesting and forced labor.

The delegation heard from several Florida experts on the subject, including Elizabeth Fisher, the founder and head of Selah Freedom, a national anti-sex trafficking nonprofit based in Sarasota. Ms. Fisher briefed the members on her group's efforts to help more than 2,000 young women in the Suncoast region.

Fisher told Buchanan Congress should focus on providing the resources to help victims reclaim their lives given that demand for services is tripling annually.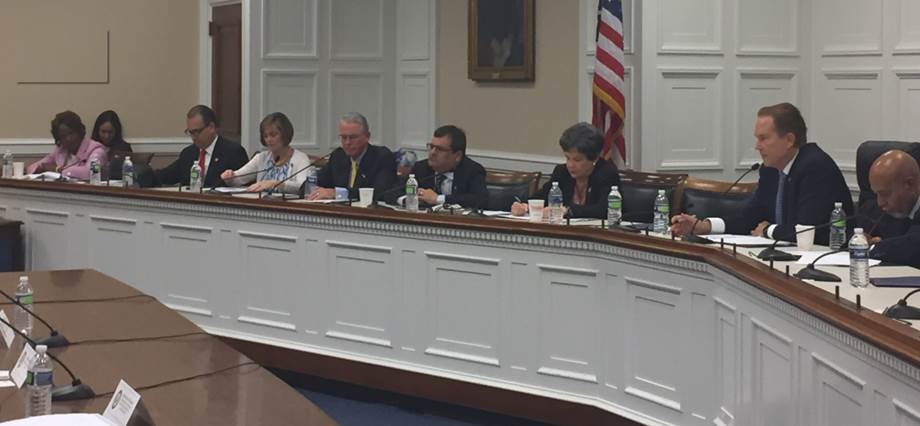 Buchanan addresses the panelists
 "Human trafficking is a vile and monstrous crime against women and children," Buchanan said after hearing from the witnesses at the briefing. "Unfortunately, Florida is a hub for human trafficking and that's why we must do all we can to stop this crime."

In November 2016, a Sarasota man was sentenced to 50 years in prison for human trafficking after authorities said the man "groomed and coached the victim on how to trade her body for money and drugs on the streets of Sarasota."

Four other panelists appeared before the congressional delegation to discuss various aspects of human trafficking in Florida: Special Agent Jose Ramirez, who serves with the Florida Department of Law Enforcement; Bethany Gilot, the statewide human trafficking director for the Florida Department of Juvenile Justice; Michelle Guelbart, director for private sector engagement for the anti-child sex trafficking nonprofit ECPAT-USA and Dr. Suzanne Harrison, director of clinical programs, professor and education director for family medicine with the Florida State University College of Medicine.

Special Agent Ramirez spoke about law enforcement's focus on helping victims. "It is not just our job to arrest people. We need to give girls back their lives," Ramirez said.

Dr. Harrison talked about the need for greater awareness and training. "We need to have the public understand that this is a public health issue. Victims go unrecognized in clinics and emergency rooms," Dr. Harrison said.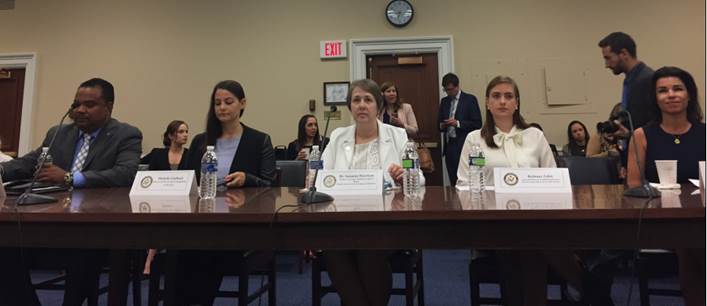 Panelists at the Florida delegation meeting, including Sarasota's Elizabeth Fisher (right)

This was the third meeting of the 29-member bipartisan Florida congressional delegation in 2017. Buchanan was joined by Florida delegation members U.S. Reps. Mast, Frankel, Rutherford, Yoho, Wasserman-Shultz, Demings, Ros-Lehtinen, Diaz-Balart, Castor, Francis Rooney, Hastings and Dunn.

Buchanan is a strong supporter of bipartisan legislation to crack down on trafficking and has co-sponsored the Abolish Human Trafficking Act, which increases penalties for perpetrators and gives law enforcement more tools to treat human trafficking like organized crime.

The Congressman also recently voted for the Put Trafficking Victims First Act, a bill that provides federal grants to train prosecutors and law enforcement on how to best protect victims and investigate, prosecute and prevent human trafficking. It also would provide assistance for trauma care and mental health services to victims. The proposal is currently awaiting action in the Senate.