Buchanan Calls For Freeze on VA Art Spending
VA Buys Lavish Artwork as Vets Suffer
Grotesque Portrait of Government Waste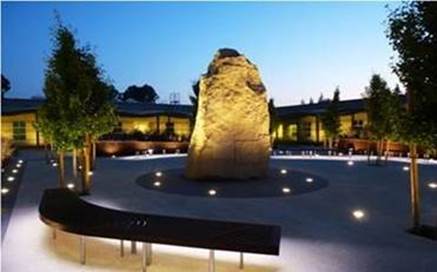 WASHINGTON – Citing a report that the Department of Veterans Affairs spent millions of taxpayer dollars on luxury art as the veterans' health scandal unfolded, Congressman Vern Buchanan today called for an immediate freeze on all artwork purchases made by the agency.

According to an investigation conducted by COX Media and others, the VA spent $20 million dollars on high-end artwork, sculptures and art consulting services over the last ten years.

Some of the outrageous expenditures included $115,600 for "art consultants," for the VA's Palo Alto facility, $330,000 for a glass-art installation and $21,500 for an artificial 27-foot Christmas tree.

Nearly $1.3 million was spent on the installation of a rock sculpture outside a VA mental health center that is meant to evoke "a sense of transformation, rebuilding and self-investigation," according to the Washington Post.

"The VA needs to focus first and foremost on providing veterans with timely and quality care, not padding the pockets of art consultants," Buchanan said. "Over 70,000 veterans, including many in Florida, still face unreasonable delays when trying to access VA care and benefits. These purchases are a slap in the face for struggling veterans and their families." 

The report arrives more than two years after it was revealed that VA employees at 110 facilities nationwide kept secret lists and manipulated wait time data to conceal the amount of time veterans waited for medical care. As many as 40 patients died at one VA facility while on these wait lists, which resulted in the resignation of former VA Secretary Eric Shinseki and the worst scandal in the VA's history.

Buchanan, a former member of the House Veterans' Affairs Committee, said he was "disturbed" the VA managed to direct federal resources to high-end art at a time when veteran suicide rates are skyrocketing.

Researchers recently found that the risk of suicide for veterans is 21 percent higher when compared to civilian adults, according to Military Times.

"The VA should be using their funding to care for and heal our wounded warriors," Buchanan said. "The president recently said the nation has a "sacred covenant" to care for our veterans. He said nothing about a sacred covenant to care for our art consultants. It's time his administration put action behind those words as we continue to welcome home the men and women who served our country."

For more than nine months the VA has refused to provide information and answer questions from the House Veterans' Affairs Committee over its frivolous spending habits. The committee is threatening to subpoena the VA unless it receives answers by Aug 26th.