Buchanan Backs Bill Targeting Killer Drug: Fentanyl
Massive Quantities of Deadly Opioids Bought on "Dark Web"
WASHINGTON — Congressman Vern Buchanan announced today he has co-sponsored bipartisan legislation that will strengthen U.S. Customs and Border Protection's efforts to intercept synthetic opioids like fentanyl from entering the country. Manatee and Sarasota counties had the highest and second-highest number of fentanyl-related deaths per capita in the state in 2015, according to the Florida Medical Examiners Commission. 

The INTERDICT Act will help stem the flow of fentanyl and other drugs by providing border agents with drug-detecting chemical screening devices at ports of entry and more personnel, including scientists, to detect drugs being sent into the U.S. from Mexico, China and other countries.

Fentanyl is a synthetic drug similar to heroin but 50 times more powerful. It is often manufactured in foreign countries like China and mailed into the United States.

"Fentanyl is a real and alarming threat to the Suncoast," Buchanan said. "American border patrol agents are on the front lines and need the resources to block these deadly drugs from entering our country."

A recent New York Times report showed that many users and dealers are turning to the "dark web" – a shadowy corner of the internet where buyers can purchase illegal goods anonymously. The Times noted that enough fentanyl to get almost 50,000 people high can fit in a standard-sized envelope. A man in South Carolina, for example, was recently accused of receiving enough fentanyl to kill 1.5 million adults in the mail. The fentanyl was ordered on the "dark web."

The nation's law enforcement community is also responding to increasing danger from the fentanyl outbreak. Earlier this month the Drug Enforcement Administration sent out an urgent alert to police, paramedics, firefighters and other first-responders warning them about the mortal risk of coming into contact with the dangerous drug.

The INTERDICT Act also authorizes $15 million in federal resources for new portable screening devices and the hiring of new scientists. 

A lethal dose of fentanyl can be as small as two or three grains of salt.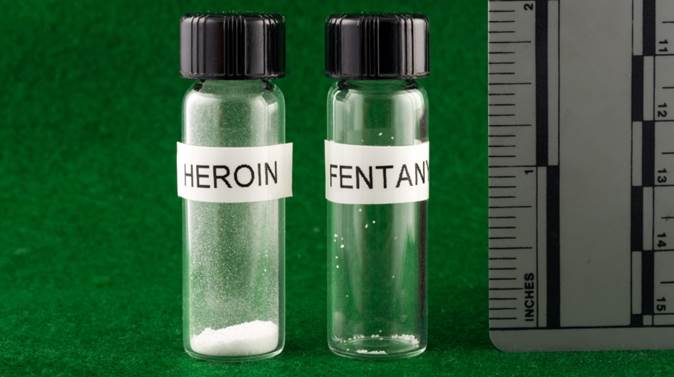 A lethal dose of heroin next to a lethal dose of fentanyl (Photo: New Hampshire State Police)
To cut down on drugs entering the U.S. through the mail, Buchanan is also a co-sponsor of the Synthetics Trafficking and Overdose Prevention Act or STOP Act. The bipartisan bill requires more intensive screening at U.S. Postal Service facilities.

The Congressman has been an active leader in addressing the opioid crisis in Florida. He fought for federal anti-drug funds that were recently distributed to the Suncoast region. Earlier this spring, Buchanan also hosted a meeting of the area's top hospital executives about the problem. 

Last year, Buchanan chaired a hearing examining the impact of addiction on kids. He also hosted a roundtable in Bradenton, Fla. with local police officers, medical professionals and stakeholders. Buchanan also chaired a meeting of the bipartisan 29-member Florida congressional delegation in Washington, DC where members heard testimony from anti-drug experts. In 2014, the Food and Drug Administration and the Drug Enforcement Administration adopted Buchanan's proposal to make it more difficult for abusers to obtain certain highly addictive narcotics.