Combating Coronavirus
As the coronavirus continues to spread throughout Florida, I want to ensure all Floridians are provided with accurate and timely information on the coronavirus (COVID-19).  The coronavirus is a serious threat to the elderly and individuals with underlying health conditions. That's why we need to take all possible precautions and make sure the public is kept informed of ways to protect themselves and reduce the spread of the disease.
Best Practices for Prevention:
Wash hands often with soap and water for at least 20 seconds. Use an alcohol-based hand sanitizer if not available.
Dry hands with an unused towel.
Avoid touching your eyes, nose and mouth.
Clean "high touch" surfaces with disinfectant.
Avoid unnecessary travel and large crowds.
Practice social distancing and stay at least 6-feet away from others.
If You Are Sick:
Stay home except to get medical attention.
Call ahead before visiting your doctor.
Wear a facemask.
Cover your coughs and sneezes.
Avoid public transportation including ride-sharing or taxis.
Avoid contact with others as much as possible.
Use a separate bathroom, if available.
Stay in a separate, specific "sick room" as much as possible.
Symptoms & Screening
With coronavirus continuing to spread rapidly across the country, make sure you know the symptoms so you can recognize them early.
CDC - Coronavirus 'Self Checker' Tool
The U.S. Centers for Disease Control and Prevention (CDC) coronavirus 'Self Checker' tool helps asses your symptoms and assists in making medical care decisions. This tool is treated as a guideline to better inform people of what step to take next in case they want to proceed with the diagnoses or treatment of COVID-19 from a medical facility.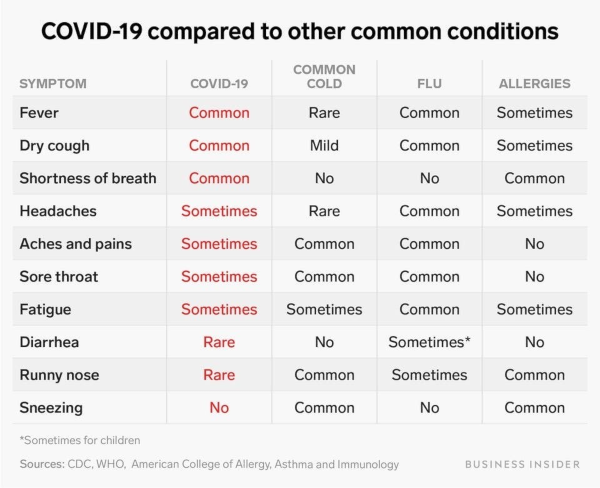 If you think that you have been exposed to the coronavirus contact your local health department:
Florida Department of Health in Manatee County
Phone Number: (941) 242-6649
Address: 410 6th Avenue East, Bradenton, FL 34208
Florida Department of Health in Sarasota County
Phone Number: (941) 861-2873
Address: 2200 Ringling Blvd., Sarasota, FL 34237
Florida Department of Health in Hillsborough County
Phone Number: (813) 307-8010
Address: 1105 E Kennedy Blvd., Tampa, FL 33602
How to coronavirus proof your home